February 10, 2021
How to Arrange A Tentage Funeral At Your Void Deck in Singapore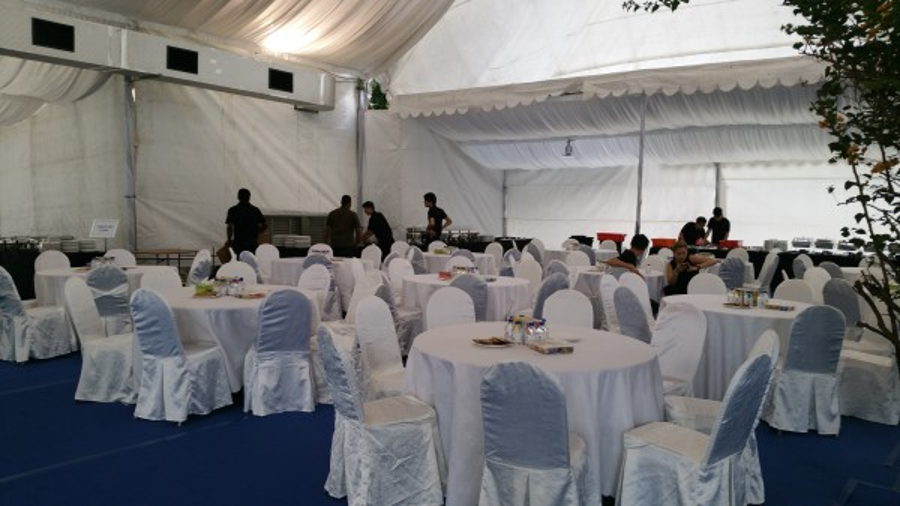 Regardless of where you choose to hold your loved one's wake, tentage is a major logistical factor you need to take into consideration. Void decks can be used to hold various events and functions, including funerals.
In Singapore, these are extremely common among locals for its convenience and proximity; nothing is closer to home than holding the wake of your deceased loved one right at their block's void deck.
While it may seem like an easy job to complete, arranging tentage services can take some time and work.
Factors to consider when making tentage arrangements
The size of your location
Different void decks across Singapore have various sizes and layouts. Older estates are known to have more spacious areas that can accommodate larger groups, while newer flats have smaller and less open spaces.
If you intend to hold the funeral under your own block, survey the area and see whether there is sufficient space for your guests and tentage to be set up. This will allow funeral service providers to gauge the extent of tentage they will be needing.
Number of guests
The number of attendees also plays a viable role in the planning process for tentage arrangements. If you are expecting a large number of guests, you would want the tentage to cover a larger area. In comparison, more intimate wakes that involve just the relatives and close friends wouldn't need as much space.
When your loved one passes, there's no telling the exact amount of people that will be visiting the wake. Those who were close to the deceased would definitely want to pay their final respects before they are laid to rest. With that in mind, it would still be helpful to have a rough estimate of the attendees.
If you'd like to notify the public of your loved one's passing, we assist families with obituaries that are usually published immediately the next day.
What are the steps that I need to take?
Step 1: Take religious requirements into consideration
Some religions in Singapore have very specific tentage requirements that need to be adhered to. For instance, a Buddhist or Taoist wake can be easily recognised by yellow tentage, while a Christian or Catholic one typically shows white tentage.
Something as simple as the colour of the tent can indicate what type of funeral is being held, making it easy for your guests to identify from afar.
Step 2: Confirm the exact location and make your booking
While void deck funerals are typically held at the block of the deceased, space constraints can be an issue sometimes. As an alternative, families have the option to choose from available HDB void decks that are near their block of residence.
When making the booking at Town Council, you will be advised on the available locations and booking dates.
Remember to bring the following documents when making your booking:
The death certificate

Your NRIC

Cash, NETS, or credit card to pay the booking charges
Step 3: Apply for the necessary permits and licenses
For families who want to hold the wake at a void deck, a permit must be obtained from the Town Council office in your area. If you are holding the wake on landed property and will be using part of the right just outside your house, you will also need a permit from the Traffic Police (TP).
This step is incredibly essential for the wake to push through. If the funeral wake happens to extend more than seven days after death, you will also need written permission from the National Environment Agency.
Step 4: Choose your preferred tentage setup
Depending on your selected funeral service provider, they would have several tentage options for you and your family to choose from. Your funeral director will also guide and assist you and your family through this process to ensure that the right tentage arrangements are made.
For customised tentage services, we offer packages according to various religious faiths and unique preferences like digital equipment and air conditioning.
Step 5: Pick a suitable generator
Without electricity, there will be no event. Usually, there's no issue with light in void decks as it gets in rather easily during the day. But you will definitely be needing lighting in the evening.
For most common spaces in Singapore, including HDB void decks and multi-purpose halls, you can request for electricity points from your town council. However, if your event requires a large amount of power that the town council is unable to provide, you'll have to source for a suitable generator for the wake.
Let Us Do the Work For You
Tentage is just one of the many services we offer our clients, and we are committed to going above and beyond to make the funeral arrangements as smooth as possible. Planning should be the least of your concerns and we want to give you and your family this time to grieve properly.
Apart from tentage, we also offer a myriad of funeral products and services including parlour halls, caskets and urns, hearses and transportation, embalming and make-up services, photography and videography, as well as repatriation services.
Find out more about our offerings here or get in touch with us at 6293 4388.